Town Haul on TLC/Discovery Channel – Open your mind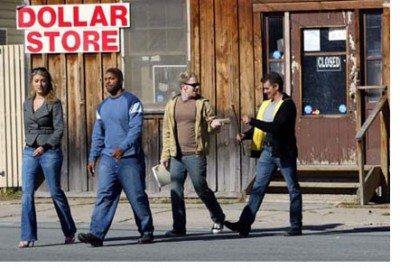 Hey, give Genevieve Gorder (and her designer cohorts) some credit here.
Formerly of Trading Spaces, she's the host of a new show with similar ideas called Town Haul on TLC/Discovery Channel that is dedicating six episodes to helping invigorate a tiny town, Jeffersonville, NY, pop. 500. This is more documentary than reality television, and I know other towns wish they were chosen instead, but listen to the naysaying 'professionals':
"The credibility of serious professionals who have dedicated their professional lives to making urban places better is undermined". A professional architect.
"Jeffersonville will be destroyed by Town Haul. If Ms. Gorder were really serious about helping, she'd enlist the help of real professionals: planners and architects. This is irresponsible!" A professional planner.
We need professionals, yes, but how about with a little less control and a lot less ego? The show is airing now, and if you ask me, it sure seems like there's a renewed sense of energy and pride in Jeffersonville, from the mayor to the merchants to its entire teen population. Some of the work is impressive, like the new teen center. Guess who were the principal designers? The teens, not the so-called 'professionals'. Makes sense to me.