What makes a good city planning code for natural cultural districts?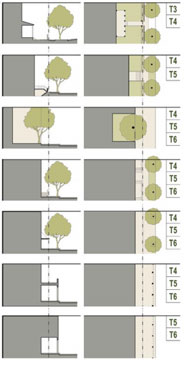 As explained in the previous blog, today's modern, progressive, people-oriented city planning codes are graphical-based. However, what are the graphics of, and are they supportive of CoolTowns?
Building frontage standards: The idea is to create great public rooms, so a uniform setback of buildings best achieves that, and sometimes further back to establish a grand outdoor dining plaza. Burlington, Boulder and Barcelona do it best by having the entire street as the outdoor dining realm, since the street is closed off to cars. 100% ground floor commercial is imperative to street life, and the venues that best achieve this are retail (restaurants and shops) rather than office. Both sides of the street should be consistent with one another to provide emphasis in the middle – the public room. Any major public investment should focus on the street rather than a block for this reason. Arcades, galleries (an arcade with no building above, though rare) and awnings provide character and shelter.
On streets that are residential, there is less intense public room emphasis, but there should still be a strong sense of public space that encourages spontaneous social interaction. Front porches and stoops provide some setback from the sidewalk while providing a private stage or balcony from which to see or be seen. Entries should always be off the street to encourage street life (public safety). Notice that a prevalence of the topmost frontage type (see image) begins to generate sprawl, while just a few can provide living choices for the more anti-social with spare $. Diversity.