Contemporary workplaces in downtown St. Louis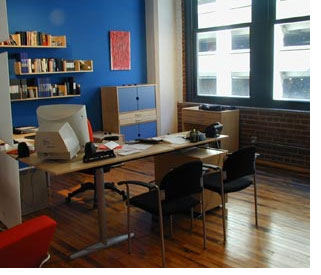 While downtown St. Louis enjoys a residential renaissance, taking advantage of commercial loft conversions in a city with a 15% office vacancy rate, that doesn't necessarily mean there's too much office space. It may also mean there's too much undesirable office space – who wants to work in a dark building with 100 foot corridors and cubicles?
The prices tell the tale. As recently as two years ago, downtown office buildings could be acquired for $2/sq.ft. and sometimes for considerably less. Today, prices range from $6-$20/sq.ft. (still less than comparable cities). Why? Office developers are using the same principles as residential loft construction, bringing in taller ceilings, expansive windows, open floor plans, wood floors and high-speed internet.
Developers today are also not your 'father's developers', as Craig Heller of 10th Street Lofts (pictured) attests to, "I wanted to build a neighborhood, and downtown seemed like an area with a lot of potential. There's great building stock and great incentives. The only question was the market. We didn't know how people would respond."
I think we already know that answer.