A treasure trove of public spaces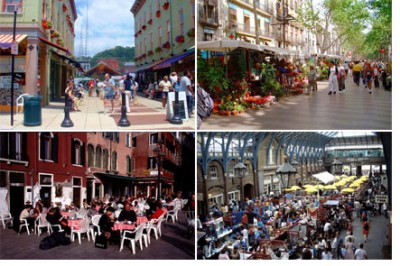 Looking for a singular resource of great public spaces, especially with photos? Look no further than Project for Public Spaces, a nonprofit that's been supporting the best of public placemaking and third places for 30 years.
One of their best resources is a series of online case studies based on the following four areas:
Great public markets: Whether indoors or out, these festival, fresh food, art and farmers markets date back to ancient times, and still serve as the heart of the community for many.
Great public streets: Pedestrians come well before cars here, along with scores of outdoor dining tables, a diversity of shops and cafes, and spontaeous entertainment.
Great public parks: Both beautiful and filled with lots of activities to keep people coming back, the most popular parks are often surrounded by great public streets and buildings.
Great public buildings: Only the most compelling buildings can make an ordinary festival, exhibit, concert, shopping or dining experience truly extraordinary.
Images courtesy of Project for Public Spaces
Know of any other placemaking resources? Please comment below…