Forbes' best place to work: Boise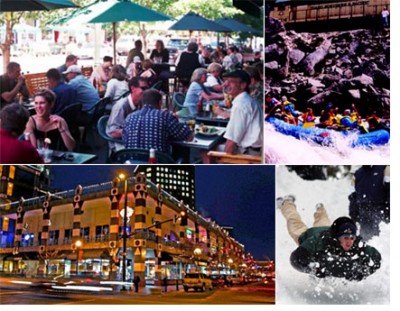 Looking to start your business or career? Low business costs (low cost of living, office rent), access to talent (a major university presence, knowledge, networking) and a high quality of life (ie nightlife, recreation) are what you need, and are the basis for some* of the key criteria for the Forbes Best Places For Business And Careers list. Carlos's question yesterday, "I for the life of me cannot figure out what these people do professionaly to afford '$250-350K' lofts or homes in this country. What are their profiles. What careers do they pick to afford that. Just curious." Many of them probably start in towns like these, then move to the New Yorks and Chicagos where the housing prices (and nightlife) are at a premium.
Best Metros (over 350,000 people)
1. Boise ID
2. Raleigh-Durham NC
3. Austin TX
4. Washington DC (see 'Speak Your Mind' comments)
5. Albuquerque NM
6. Huntsville AL
7. Fayetteville AR
8. Norfolk VA
9. Atlanta GA
10. Madison WI
Best Small Towns:
1. Sioux Falls SD
2. Rochester MN
3. State College PA
4. Fargo ND
5. Bismarck ND
6. Rapid City SD
7. Lincoln NE
8. Las Cruces NM
9. Iowa City IA
10. Bloomington IN
*Full list of criteria: Number of engineers, cost of doing business, cost of living, crime rate, culture & leisure, educational attainment, income growth, job growth, net migration.
What town is your career or business thriving in, and why? Speak your mind below…