A village of third places – in one block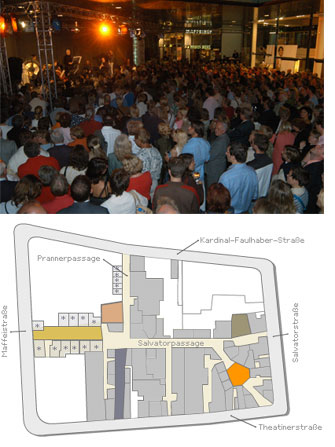 The name says it all for this destination in Munich, Germany: CityQuartier F�nf H�fe, Town Center of Five Courtyards – a portal for year-round social interaction, concerts (pictured) and relaxing, rain or shine, summer or winter.
Right in the historic center of the city, this is Germany's version of a downtown shopping mall, though with some radical differences from those found in the U.S. In addition to the 168,000 retail s.f. of shopping (unfortunately most of which are high-end chains) and dining, there's 280,000 s.f. of office space, as well as 27 apartment units (34,000 s.f.) While most of these venues aren't quite affordable, the point of the development's design, inherent in its name, is that the five courtyards and its 'weather-resistant' activities and events are entirely free – a good way to impress the date with some culture on a shoestring budget.
Check out its interactive map of shops and restaurants, one of the best around. We're actually working on a version of this to promote independent restaurants and shops on main streets and town centers.
Know of any extraordinary destinations overseas? Speak your mind below…