Next gen housing for changing households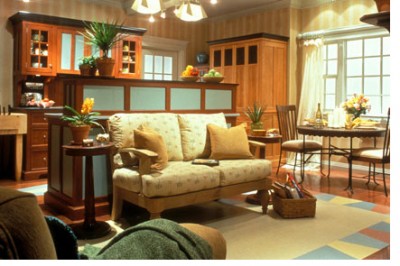 As we shift to a society where only 1 out of 5 households is 'married with children' (see yesterday's story, our homes will change as well.
Many young professionals will go with smaller kitchens since they 'prepare' rather than cook meals (have microwave oven, will survive) and entertain out of the house. In exchange, they'll opt for a larger living room or bedroom that can accommodate a workplace alcove, one in each when there are at least two household members. These kitchens will also begin to blend into the living room via open floor plan and even appearance (see image, courtesy of Yestertec; more on this tomorrow.)
Boomers stay at home more and entertain in the home as well, so larger kitchens and living rooms are prioritized over bedrooms. They also have more accumulated stuff (e.g. art, books, white elephant) and so need more display-storage areas, big closets, and less rough-and-tumble storage space (e.g. crates, wall racks). In addition, they value privacy and quiet. Thus, wall-less lofts do not appeal to them.
Regardless of age, meeting friends and new people are a major part of their lives, so proximity to social watering holes, aka third places, are a key selling point.
Does your home fit your needs? What would be ideal? Speak your mind below…