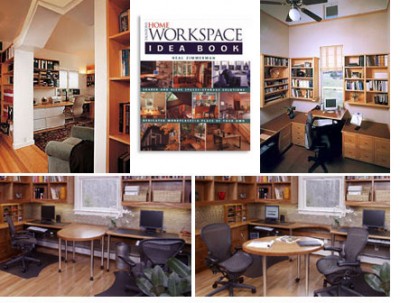 The workplace alcove is becoming more of a standard feature in new urban homes, as reported yesterday. Younger people simply can't afford a separate room just for an office, so alcoves are the next best thing. It also better fits the modern open-plan layout, and the coffeeshop mentality as well.
Architect/author Sarah Susanka began popularizing the idea in her Not So Big House book in 1998, and Neal Zimmerman and Associates AIA is one of the leading resources for workplace niches today. You can check out his books here, including his latest one stocked full of practical design ideas and photos, pictured above with images of his work. For instance, the images at the bottom show a workplace for two people, with a common work table that slides out to becomes a conference table – or a casual lunch rendezvous.
I'd presonally prefer workplace alcoves all over the house – different environs for different tasks and thinking – that's the beauty of a laptop with WIFI. A den to me is not too far off from a cubicle – this is where you work, and that's that.
How do you work best at home? Speak your mind below…