A typical neighborhood scene at 2 am?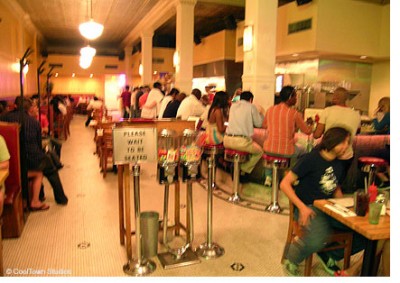 Depends on where you are. This photo was taken at 2 am, last week Wednesday night/Thursday morning at The Diner in Adams Morgan, Washington DC.
Since evidence shows that the creative class drives the economy…
Question: Is your city attracting creatives?
Answer:
– Does it have a place like The Diner that looks like this at 2 am on a typical late Wednesday night?
– Is that venue an independent restaurant like this one, and not a Denny's, IHop, or Ruby Tuesdays?
– Is it in a cluster/main street/town center of other late-night independent restaurants and bars, like The Diner is on 18th Street?
– Is it surrounded by thousands (not hundreds) of residents within a few blocks, as this is?
– Does a place like this inspire a group of independent entrepreneurs to work collaboratively on the floor above it? Stay tuned tomorrow…
If so, then the answer is probably yes.
Does your neighborhood have anything like this? Do you wish it did? What's missing? Speak your mind below…