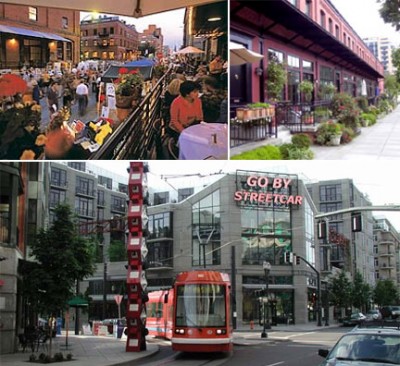 The Pearl District in Portland, Oregon is one of the finest new urban redevelopments in the country, transforming a warehouse district into an artist district into a residential community. Unfortunately, the new lofts are anything but affordable (the population doubled in the last couple of years), but the public places, streets, farmer's market and galleries – all free to inhabit – are among the best in the city.
As the story goes, Thomas Augustine, a local gallery owner inspired the name just 10 years ago when he suggested that "the buildings in the warehouse district were like crusty oysters, and that the galleries and artists' lofts within were like pearls."
Another gallery owner is quite thrilled with the heightened activity, "I thought that as we had more and more people coming into the neighborhood to shop and eat that I'd be getting more people who weren't very sophisticated about art and wouldn't like what we were showing. But the opposite's been true. We're also getting more people from out of town because it's a hot neighborhood. People stay at hotels and ask what they should visit, and they're told to go to the Pearl."
Read more here, or here to see one of my favorite photos of the Pearl.
Have you been to the Pearl District? What do you think? Speak your mind below…