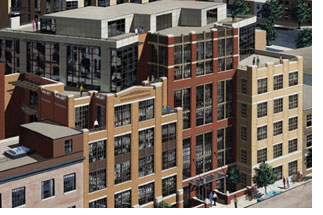 You're in luck if you're in Washington DC, as far as finding out where to buy. Loft afficionado Tim Liu has put together one of the most extensive loft shopping guides anywhere at DC Lofts. However, being able to afford them is another story, because the supply hasn't caught up with the demand – even with the 150 loft/loft-style buildings listed on the site.
The question is, "When will one be able to truly afford a loft?". One way is to move to a more obscure where the city isn't as popular as the loft itself, like Cincinnatti. Another is to wait another five years when the supply catches up with the demand, since more and more developers are learning how to build them in lieu of subdivisions – good news for gen yers, not so much for gen xers – in DC that is. Third, you can always go back in time five years before the tipping point hit it in DC. Fourth, find lofts in a neighborhood that's not quite ready for prime-time, but you'd be sacrificing a little bit of safety.
Unfortunately, the lofts in the image, The Metro in MidCity, DC are already sold out, but they were probably too expensive anyway.
Do you know of loft directories in other cities? Please let us all know by commenting below…