Houston the latest downtown on the verge of growth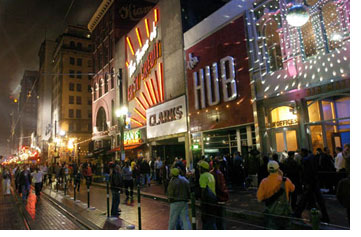 There were only 2560 people living downtown, but that population jumped 43% since then. Still, that's only 3655 people, though that number is expected to increase to 20,000 in 20 years – that's eight times the population at the turn of the century. Why the sudden increase in popularity? Understanding the principles of the tipping point helps.
So how will supply meet demand, given the trends described here in the last two entries? "Build more low- to mid-rise buildings on vacant lots, including ones that look like the traditional loft buildings that enjoy such strong market demand in Houston," says Scott Slaney of an international landscape architecture group with offices in Houston. "That's what San Diego developers did—successfully—when their rapidly reviving downtown ran short of historic buildings."
Meanwhile, the downtown urban fabric is potholed throughout with ubiquitous surface parking lots that debilitate any attempts at a vibrant street life. The reason is that the property taxes are based on property use; very low and incentive to stay pat, rather than property value; very high and a motivating factor to create better value on the site. Pittsburgh solved that by reversing that tax assessment. Houston's renaissance will accelerate if the equivalent happens as well.
Opinions on what downtown Houston could be? Any other city downtowns coming alive? Speak your mind below.