Applying freakonomics to CoolTowns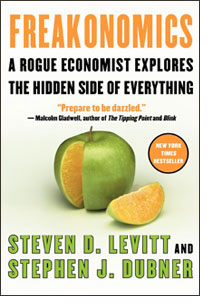 What is freakonomics and why should it matter? Renowned economist Steven Levitt began applying economics to everyday fields of study and began discovery rather extraordinary facts. Some of his findings are below (and these are his conclusions, not my opinions):
– Roe vs. Wade did more for crime prevention in the 1990s than any conscious effort to reduce it, as babies were born into more stable households.
– Parents moving to a 'better neighborhood', reading to their child, or not working between birth and kindergarten did not improve their child's test scores, but that there parents were educated and over 30 did.
– Drug dealers live at home with their parents because it often pays less than minimum wage.
– Most popular child names of the future? Try Annika, Meira, Aviva, Quinn, Aidan, Keyon, Ansel, Zev…
Much of the current understanding and motivation to build more cool, progressive, urban, quality-of-life-oriented places to live and work originated from freakonomics itself, by asking the question, 'What does creativity have to do with a city's economic performance?' The answer here.
Now, if we could only find data to apply to this freakonomics question, 'Do independent (indie) businesses vs. chains in your neighborhood raise the value of your home?'
Have you read the book? What do you think? Speak your mind below…