So close to being a great neighborhood, yet so far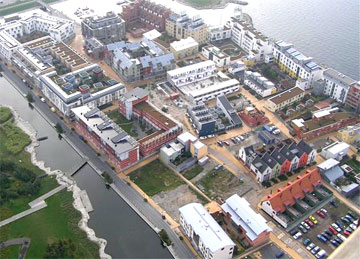 Sweden's new contemporary urban village for a 1000 people, Bo01, is a model destination in many ways except its lack of affordability. Unfortunately, that one shortcoming alone has seriously compromised the community's original vision.
First, the good:
– The streets are walkable, organic in layout, human-scaled and oriented to surprise views, like in historic European city centers, with cafes and restaurants running throughout.
– Cars are de-emphasized, with less than one parking space per residence. Bike lanes and buses are prioritized.
– A waterfront plaza that has become a popular public gathering spot.
– A green-building infrastructure that runs on wind power, solar power, amid myriad other ecological features.
– Colorful, well-designed buildings that focus on quality of life, daylighting, technology.
Sounds great huh?
Now, how the place went 'not exactly as planned':
– The home prices are double the nation's average.
The ripple effect? There is no diversity; the residents are of one ethnicity, ignoring 40% of the other cultures. The affluent residents use more energy than average, and demanded more parking. The most creative, entrepreneurial of its people, the ones who would have most embraced what the place was about and made its whole larger than its parts, cannot afford to live, eat, drink – much add culture there – except on the waterfront plaza. Besides, the place looks a bit sterile.
So close, yet so far.
What do you think of Bo01? Speak your mind below…