Built examples of the future of universities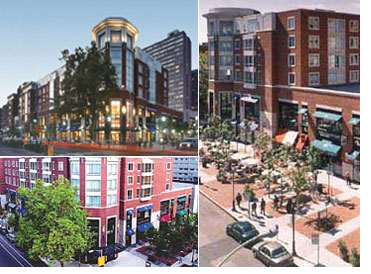 In 2003 I presented a vision for how contemporary universities will blend seamlessly into neighborhoods and cities, via an article on site plans. Two years later, it's nice to be able to show photos of built projects instead.
This photo is not of a complex for office workers, but the University of Pennsylvania's Sansom Common, designed to provide a supermarket, entertainment (theaters and restaurants), shopping and public safety for its students, and a hotel for university visitors. In fact, public safety is a major impetus for building these eyes on the street places.
Now, they haven't gotten it all right, according to the surrounding residents. Too upscale, too many chains, and not enough community involvement which may have improved these drawbacks, known as Penntrification.