Columbus gets a cool university village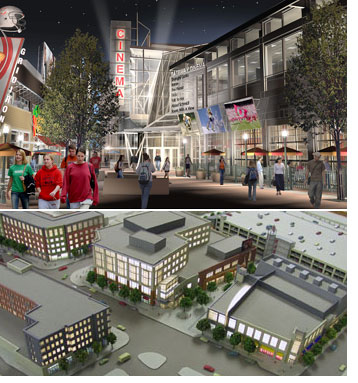 In continuation of yesterday's entry on built examples of the 'next university', here's one that's a sign of where things are going, this one at Ohio State University in Columbus.
South Campus Gateway is a $150M four-block mixed-use urban village located between the University and one of the city's poorest neighborhoods, with 30+ retail shops, university office space, multiplex cinema and nearly 200 rental apartments. 2-bedroom 'loft apartments' with great views and 10-ft. ceilings will rent for $1200-$1300 – not bad considering how many students double up.
One feature that shouldn't be overlooked? It actually has a paseo of sorts, that evasive, ever so un-American pedestrian-only street. However, it's unclear if many of the restaurants and shops will be indies… probably not, though Rome wasn't built in a day.
…and $35M of it was paid for by New Market Tax Credits, if you read last Friday's entry.