Johns Hopkins' urban research village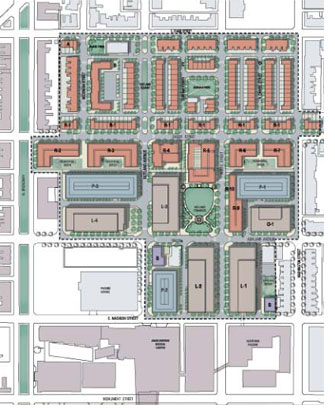 Universities are starting to respond to the long-time reality that people simply don't enjoy working (or are as productive) in the typical isolated campus research park devoid of human scale or residential, retail and entertainment vitality.
Johns Hopkins University is one of them, with their 80-acre Science + Technology Park adjacent to their medical complex. Notice how it continues the existing walkable urban fabric around it. That's the Johns Hopkins medical complex at the bottom of the image.
The new neighborhood, with 1.1 million s.f. of office space, 850 residential units, retail (though how much in unclear) and parks, is not without controversy. Many of the derelict buildings in the impoverished neighborhood were condemned, though owners received buyouts well above the previous market rate. There are many locals who despise the efforts. There are also many who welcome the investment, hope they can stay, and avoid the catch 22 of gentrification.
Please comment/post questions below.