Contemporary public markets instead of Wal-marts?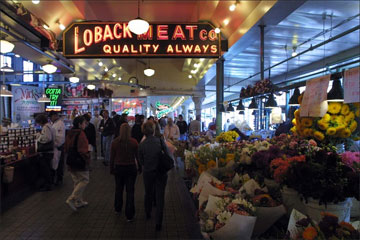 That's the theme of the Project for Public Spaces (PPS) Public Market Program – one of the freshest, most comprehensive guides to public markets anywhere. These aren't just those ad hoc groups of merchants on the street corner, public and farmers' markets are modernizing.
New PPS studies that document these greater economic gains over 'big boxes' will be revealed at their public markets conference at the end of October. One survey showed that 83% of the entrepreneurs in these markets self-financed their businesses – proving that these markets are a great way to get your business off the ground.
Here are some of the must-read newsletter articles if you're serious about having a successful public market in your community:
– 'Ten Qualities of Successful Markets'
– 100 well-tested tips on how you can create your own great market.
– Photo allery of historic and contemporary markets
– How markets help entrepreneurs
– How markets boost local economies and quality of life
– The multitude of health benefits
What do you think of the future of public (indoor) and farmers' markets?