The first internationally themed public market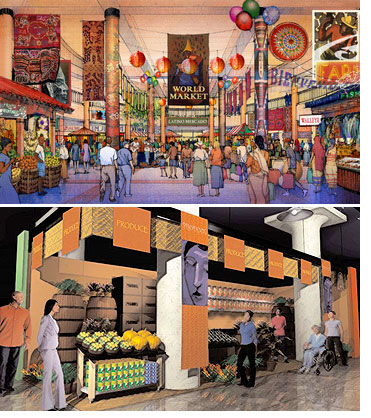 It's a global economy, so how can small businesses compete? They can become a tenant in Minneapolis' coming global marketplace, the Midtown Global Market, the first of its kind anywhere.
The market will feature 60 local merchants representing Latin America, Africa, Asia, Europe, andd the Middle East, and African American and Native American business owners. Another innovative element of the market is that these businesses will be divided by their stages of growth: start-up, second-stage growth, and anchor, a lot like the 'baseball farm team'-inspired entrepreneurial development system. The Neighborhood Development Center, a local nonprofit that provides entrepreneurial training to many of the start-ups, owns 25% of the property and manages the building.
Fresh food is the underlying theme, through internationally-themed sit-down restaurants and prepared food stalls, specialty groceries and ethnic or natural foods stores. You'll also find crafts, music (instruments and CDs), photography and fine art. A more complete listing here.
Is this a place you'd frequent? Comment/ask questions below…