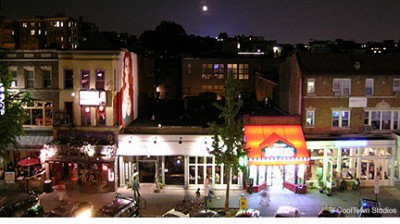 Ever played one of those games where you had to find the list of items that were blended into the picture?
a. Can you find the entrepreneurial workplace where a dozen creative businesses collaborate and celebrate in a living room setting?
b. Can you find the 24-hour diner that's filled to capacity on a Wednesday morning at 2 am?
c. Can you find the national chain that doesn't quite belong?
d. Can you find what one magazine called one of the best bars in America?
e. Can you find the neighborhood coffeehouse/bar/lounge that's several times busier than the Starbucks up the street?
f. Can you find the new lofts that sold out immediately?
g. Can you find the lounge that opened just a few weeks ago and already has a line to get in every night and one of the most popular spots for brunch?
This is what a cooltown is about, in one image. In a true cooltown, this is the kind of shot you take by accident.
Answers: a. fifth building from left, second floor – my workplace :); b. fifth building, first floor; c. fourth building; d. second building, Madam's Organ; e. third building; f. background building; g. first building, second floor