When affordable art meets affordable nightlife…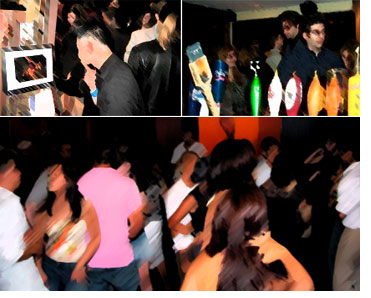 So you're young and can't afford gallery art just yet. Or you're a young artist and looking for exposure. Or you're just someone looking for something a bit more fulfilling to do on a Saturday night.
Scott Fraser has quite the remedy. He hosts an art auction dance party at popular nightclub venues. Why? As he says, "Not enough young people are buying original artwork," especially at gallery prices. "It's just expensive, they don't have the disposable income."
So, because he has many young artist friends, here's his invitation to them, "Please create or bring previously made pieces for display. One of your pieces will be part of a silent auction where you keep the proceeds of the sale. I'd like to keep the starting bid relatively low. For example, if you typically price a piece at $400, we'd start the bid around $100. I don't want anything too expensive that you may feel these lower prices would compromise your work. Consider the starting bid to be the cost of materials."
To the artists, it's worth the exposure, and two dozen of them will be at his next open invitation event this Saturday (the first in over two years) in downtown Washington DC, Fall Into Art. There'll be a suggested donation of $5 to support Arts for the Aging, otherwise the event is free. It helps to have an art lover (owner Jeff at Vida) offering the venue at no cost.
Why a DJ and dance party 'til 3 am after the silent auction ends at 11 pm? "To get the right kind of crowd," says Scott, "…and galleries are too stuffy (for them.)"
Truth be told, most everyone I mentioned this event to seemed excited about attending. Exposure to the emerging arts, dancing, cash bar (good for auctions), no cover and a good cause – hard to top that in one evening.