Measuring the economic benefits of arts on a community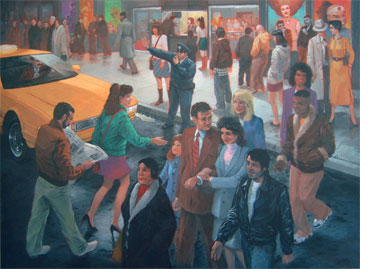 Why should a city invest in the arts? While artists have no shortage of reasons why, there's often little economic evidence of their impact. That's the focus of Dr. Stephen Sheppard, an economist at Williams College who has been working with MASS MoCA (Massachusetts Museum of Contemporary Art) to calculate the real value of arts to communities.
There are three 'pathways' that lead from the arts to economic growth that he measured and analyzed:
Direct employment and income from the arts and related sectors – MASS MoCA attracted 100,000 people a year to its small town of North Adams, which has resulted in new restaurants and businesses.
Improving quality of life – People enjoy the vibrancy associated with the arts, increasing the desirability of a place to live. This can be determined by the change in housing prices, which rose 20% in the areas surrounding MASS MoCA and artist-oriented lofts. The increase in density of art-oriented people in turn encourages more creative events, like this art auction party.
Increases social capital – The arts provide a medium by which social capital, or a diverse sense of community is enabled. This is measured by where visitors are coming from to various art-oriented events – even the Mexican Fine Arts Museum in Chicago draws an audience from a diversity of neighborhoods throughout the city, and the region.
Image from the event-based Fusion Gallery in Bellevue KY.