NY Times – 'Trading the Car for the Train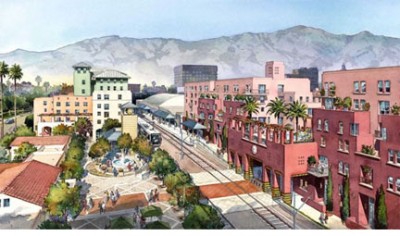 Not a surprising headline yesterday coming from the NY Times, unless… the story is about a project in Los Angeles!
That's right, Pasadena is getting a 347-apartment transit-oriented development, bisected by and situated above L.A.'s light rail line. The award-winning new neighborhood, Del Mar Station. It makes sense, since studies show U.S. 'households in transit zones own an average of 0.9 cars, compared with 1.6 cars for metropolitan regions' and 'California state residents living near transit stations were five times as likely to commute by transit than the average resident worker in the same city.'
You can read more about its excellent urban design attributes here, planned by one of the top planning firms in the country, Moule & Polyzoides. It's signature feature? A piazza surrounded by housing and retail on three sides, with a restored historic train station on the fourth side. Expect myriad postcards of it, as well as social gatherings and spontaneous meet-ups.