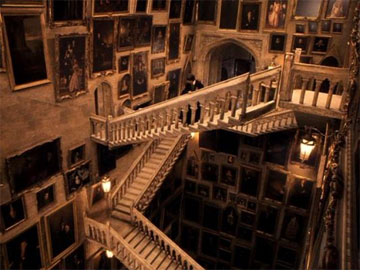 Americans have been gaining weight an average of one pound a year. If they walked up stairs for just two minutes a day, they'd lose 1.6 pounds a year instead, according to James Sallis, a professor of psychology at San Diego State University in a Wall Street Journal article, New Buildings Help People Fight Flab.
An excerpt: "Buildings have long been designed so people can get from one place to another with minimum physical effort. Now, in a bid to fight a rising tide of obesity, companies, universities and other institutions are embracing the opposite idea: buildings that force employees to move around a lot more."
Now, we've long heard about the benefits of a walkable community, but why not a walkable building? What does that mean?
– More prominent stairways and slower elevators at Virginia Commonwealth University
– Elevators that stop on every third floor at the CA Dept. of Transportation (there's a separate elevator for the disabled.)
– Stairwells are brightly lit and hung with paintings; the elevators are slower at Sprint.
– The steps on the main staircase are wider with lower risers; the cafeteria and key meeting rooms are located on the perimeter of the new building, at the Robert Wood Johnson Foundation
There's some truth to this – the elevator in my building is so slow that I walk up the seven flights instead, and thankful for it. Human-scale buildings that don't require elevators also add more character and sense of place to a neighborhood.
Image – No elevators at Hogwarts.