Renewed vision for post-Katrina Mississippi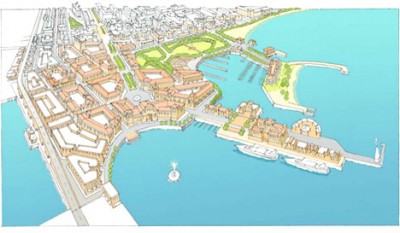 In the short term, the people of Mississippi's Gulf Coast may have less of a town to return to. But in the long term, they may very well be living in heathier, livelier, more economically stable communities than if disaster never hit.
Thanks to a $1M Knight Foundation grant and $1M gift from philanthropist Jim Barksdale (formerly of Netscape), 120 new urbanists led charrettes in eleven cities over six days in mid-October, assisted by my good friend and renowned town planner, Andres Duany. The results were a series of extensive, detailed and extraordinarily visionary master plans for each of these communities, viewable at the Mississippi Renewal Forum. It's up to the respective city governments to adopt them or not.
Which town do you think will take come out the most ahead? The one with strong leadership. Thus, place your bets with Gulfport's plan for its 71,000 residents becoming reality, as no town had a more involved leader than its mayor, Brent Warr.