City centers a magnet for entrepreneurs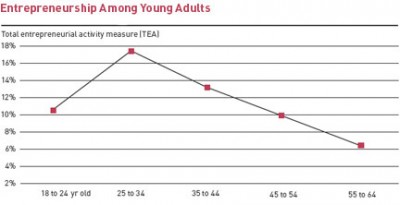 Continuing yesterday's review of, The Young and the Restless In A Knowledge Economy, significant evidence abounds of a migration to city centers by young adults, but what's the big deal?
Lots and lots of jobs. As this graph from the report clearly shows, entrepreneurship peaks (by a fairly noticeable amount!) in the 25-34 year-old range. Entrepreneurs start companies and hire people. It's the young companies that grow fastest, while mature companies either stabilize or as we've often seen, reduce workforce. Fast growing companies, known as gazelles, are especially key for job growth.
So what's a city to do that's seeking a boost to its local economy? Find ways to make downtowns as accommodating to entrepreneurs as possible – and that starts with housing they can afford and a 24/7 day/nightlife to make new business and personal connections.