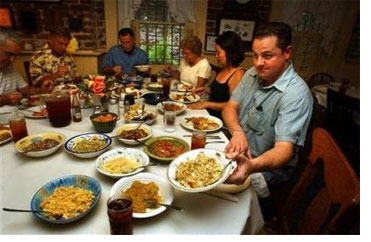 Looks like home doesn't it? With a name like Mrs. Wilkes Dinining Room, in the hospitality of the South (Savannah), it's no surprise. It's communal dining folks, where people join other people (yes, strangers) and start digging in as if they were a personal guest of Mrs. Wilkes herself. It's a buffet right on your table, and every cool town could use one.
While first-timers may express apprehension about dining at a communal table with people they've never met, they often walk away enthused about the whole experience and with plans to return with friends. However, they'd still have to wait in line – the place is extremely popular with locals and visitors alike.
A couple of comments by patrons new and old:
"Sure didn't want to sit with other folks pretending to have a Really Big Time. But I went and lost … lost my attitude.
Yes, you sit with a bunch of strangers. Yes, you don't get to order anything, whatever they cook that day is what you get. And yes, go anyway. The food is excellent, especially all the side dishes. The whole experience is fun. Everyone is usually as chatty as you can get with a mouth full of fried chicken."
A typical spread, not ideal if you're vegetarian or have eyes bigger than your stomach, tempts you with fried chicken, baked chicken & dressing, roast pork & dressing, beef stew, baked ham, collard greens, snap beans, butter beans, okra & tomatoes, rice & gravy, mashed potatoes, macaroni & cheese…