Public squares making a comeback in a big way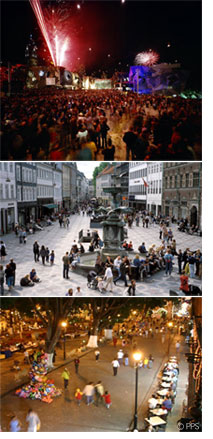 How can a city best create a strong identity for itself, provide that place one can count on for weekend entertainment, set the stage for public gatherings and pass the postcard test?
Project for Public Spaces (PPS) features an ideal solution: Beautiful central public squares, or for more progressive cities, a piazza. If you're looking to understand, design, or better yet, develop a square, there's no better resource than their December newsletter on squares, which includes design principles, trends, and case studies on this growing trend.
For starters, here is PPS's list of the top squares in the U.S./Canada and the World, some of which are riding the rediscovery wave of public squares:
U.S./Canada
1. Jackson Square, New Orleans, LA
2. Rockefeller Plaza, New York, NY
3. Pioneer Courthouse Square, Portland, OR
4. Campus Martius, Detroit, MI
5. Union Square Park and Greenmarket, New York, NY
6. Bryant Park, New York, NY
7. Rittenhouse Square, Philadelphia, PA
8. Portsmouth Square and
9. Washington Square, San Francisco
10. Square St. Louis, Montreal, Quebec
11. Squares of Savannah, GA
12. Washington Square Park, New York, NY
The World
1. Rynek Glowny, Krakow, Poland
2. Plaza Hidalgo, Mexico City, Mexico
3. Piazza Navona, Rome, Italy
4. Piazza del Campo, Sienna, Italy
5. Piccadilly Circus, Trafalgar Square, Covent Gardens, and Leicester Square, London, UK
6. Hotel de Ville (City Hall), Paris, France
7. Old Town Square, Prague, Czech Republic
8. Plaza de la Constitucion (Zocalo), Oaxaca City, Mexico
9. Plaza Santa Ana, Madrid, Spain
10. Plaza de Armas, Cuzco, Peru
11. Trg Bana Jelacica, Zagreb, Croatia
12. Östermalmstorg, Stockholm, Sweden
13. Plaza de Entrevero, Montevideo, Uruguay
14. Federation Square, Melbourne, Australia
15. Imam Square, Isfahan, Iran
16. Campo Santa Margherita, Venice, Italy