Combining 'green building' with 'new urbanism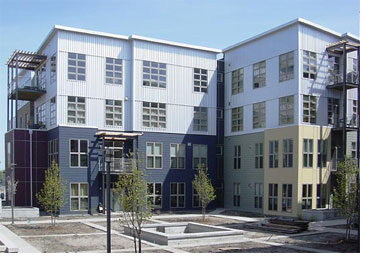 Try searching for images that combine green building with new urbanism. It's not easy. Both movements are lead by visionary developers with strong public interest, yet creating an energy-efficient walkable community has mostly proved a bit too sophisticated to date.
Thankfully, developers like Solar Village (profiled previously and The Lander Group are breaking new ground with just that – green buildings in new urbanist environments. Some of the green building features in The Lander Group's Midtown Lofts (pictured) include:
– Energy Star rated appliances and furnace;
– Low VOC paints;
– Large, low-e windows;
– Carpet made of mostly recycled content;
– Formaldehyde-free kitchen cabinets
– Low-flow faucet and fixtures, and a dual-flush toilet
– Composite (plastic and wood) decking material
Meanwhile, the U.S. Green Building Council is finally working on environmental (LEED) standards for neighborhoods with its LEED for Neighborhood Development (LEED-ND) designation.
For more examples, check out this article by The Town Paper.