From abandoned industrial district to cool university village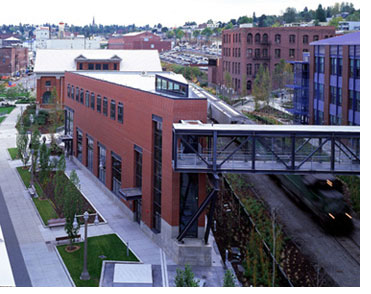 What to do with a desolate, unsafe, blighted industrial district of empty warehouses…
Business leaders in Tacoma knew exactly what to do – transform it into a university village.
Beginning in 1986 using their own private resources, they worked tirelessly to convince state and local officials and University of Washington administrators that this was the perfect site for a new university.
Eleven years later the University of Washington-Tacoma was established on the site.
The 46-acre campus masterfully preserves Tacoma's historic Union Station/Warehouse District with contemporary additions, and with a current enrollment of 2000 expected to rise to 10,000 over the next decade, it truly will transform the area as well. Retail, coffeehouses, restaurants, pubs, the University bookstore and a light rail line have already begun to enliven the neighborhood with a regular cast of pedestrians.
The real test is, what do the students think? Well, if the following essay by a student is any indication… "The University of Washington, Tacoma campus, in urban Tacoma, entangled my heartstrings beginning the first sunny day… Now, I ask you, who wouldn't fall in love with a place that opened its arms wide and welcomed you? That day was the first time I took a ramble around the campus grounds; at the conclusion of that walk, I knew this was one of my special places."