Mass personalized transit – the 'city car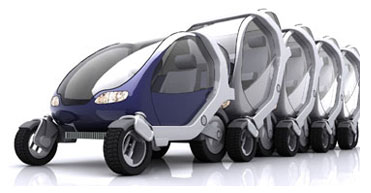 What happens when you cross car sharing with a shopping cart?
The people at MIT have an answer that poses such a question – the city car… and it's set to be built as a prototype by GM.
Stackable like a shopping cart to save space, the electric two-seat city car is designed for pedestrian-oriented communities (ie cities) that suffer from single (or double) occupancy vehicle congestion and a dearth of parking. With independent wheels, it 'drives like a computer chair', thus making parallel parking a snap.
It's the next step beyond the current version of car sharing, which is already quite the cool, urban success story.