The retail entertainment trend: Bay Street, Emeryville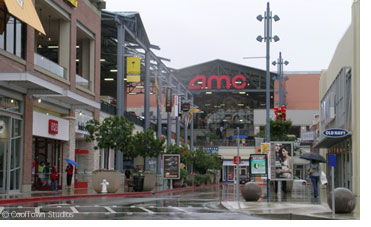 It's now a common evolutional trend where retail is merging with entertainment. In fact, downtown needs to in order to survive, as the economy moves from a goods/services economy to an experience economy.
There are three essential components to 'cooltown-certified' retail entertainment districts: great placemaking and unique venues, both of which become destinations unto themselves, and a good supply of attainable housing. Of course, other factors like tenant mix, location, etc. are important, but developers and cities don't usually make mistakes in those areas.
The City of Emeryville, near Oakland CA, took a proactive approach with supporting the construction of Bay Street Emeryville, a one million s.f. urban village of retail, residential, hotel and entertainment. While it entirely succeeded in creating a sense of place and a destination as a whole, other than the theater, there aren't any unique, independent restaurants or shops that warrant a visit – its Barnes & Noble or PF Chang's is the same as any other. There's a rich presence of housing above the stores as well, but nothing attainable for anyone other than executives and lawyers. Still, it's a much, much better example of how to create a sense of place as a retail entertainment district over the aforementioned malls and power centers.