Berkeley's 4th Street – a destination with destinations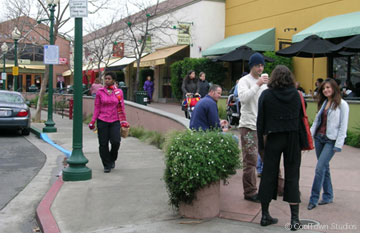 Great retail entertainment districts not only provide a strong sense of place, as Bay Street Emeryville does (profiled yesterday), but must-visit restaurants and stores as well, which it does not.
Berkeley's 4th Street does on both counts.
While not as spatially dramatic as its neighbor (Bay Street), 4th Street has become known as an artistic, creative and increasingly chic main street of about 130 businesses. Transformed from an industrial district to an artist community to what is now getting to be a rather upscale community (sound familiar?), there are a number of one-of-a-kind places that people will go out of their way to visit:
Bette's Oceanview Diner – Be prepared to wait in long lines, the food is raved about (especially the pancakes) and the prices are very modest – a key cooltown combo.
Builder's Booksource – One of the best, most progressive design/build bookstores in the country. I ordered dozens of urbanism books here for distribution during Palo Alto's comprehensive planning.
Brennan's – A neighborhood cafeteria-style institution since 1959. Again, great food, low prices. It's a must kind of venue to attract the cooltown crowd.
Too many to name, go here to read about the many other destinations.