Oakland's inspiring Fruitvale Village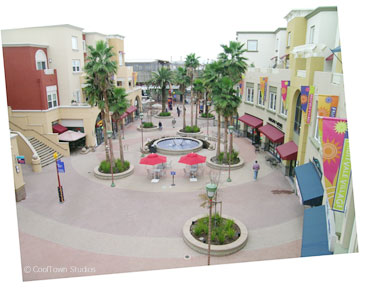 In continuing a look at the most innovative new developments in the East Bay of the San Francisco Bay Area, our last stop is at Fruitvale Village in Oakland, and one of the most meaningful success stories.
The local latino community in Fruitvale felt the parking lot adjacent to the neighborhood's 'BART' light rail station (the East Bay's 4th busiest) had a better fate than a parking garage as was originally planned in 1991. The savior? The nonprofit community-based real estate development organization, The Unity Council stepped in to take a lead, listened to what the residents and businesses wanted (what cooltowns are all about), and instead of a parking garage, the community now has one of the most inviting plazas in the region, 47 new residences (with 250-450 planned), and dozens of new ethnic-oriented restaurants, shops, and community-based services including a library, clinic, senior center, and child-care center.
Groundbreaking took place on the $100 million mixed-use development in 1999, and it's been the pride of the community ever since. The one thing that could make it a whole lot better? Independent restaurants and take-outs rather than fast-food oriented chains, especially with such an emphasis on strengthening the local community.