A quick review of San Jose's Santana Row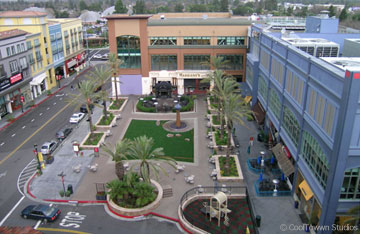 Santana Row in San Jose, CA does not have any housing that can be afforded by a majority of the creative class, nor does it sport independent businesses, favoring upscale chains instead. For those two reasons alone, it's nowhere close to being a 'cooltown'. However, it does have some of the best new placemaking and urban design anywhere in the entire San Francisco Bay Area, and for that it deserves merit. In other words, just imagine how amazing it'd be if 87% of its retail were independents and the housing didn't have luxury as an adjective.
It does have theaters, which have fixed prices, a public farmers market, no charge for window shopping, and some affordable menu options in its swank restaurants (like your obligatory burger or salad), so it's worth a visit. The best third place? The plaza (pictured) where you can bring along a picnic lunch and with a bit of imagination, pretend you're in a piazza in Italy.