This plaza passes the 'postcard test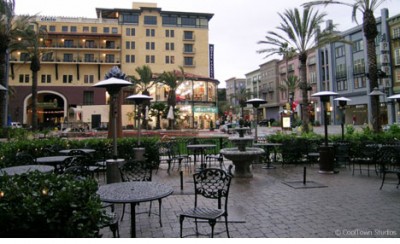 Yesterday I made a comment about the plaza in Santana Row, that with a bit of imagination you could feel like sitting in a piazza in Italy. Maybe not so much based on the bird's eye photo yesterday, but more so from the perspective in this image (minus the palm trees.) While the average person can't afford to shop or live here, there's a lot of positives in seeing more of these truly pedestrian-oriented, 'Europeanesque' piazzas built that are free to the public. As I mentioned yesterday, think of it as an urban picnic scene.
What makes this plaza pass the difficult postcard test? One reason is that the buildings front the square directly on two sides with no street in between, allowing this restaurant's tables to spill out onto the square. People (or at least evidence of them) make for better pictures than traffic.
In the big picture, these kinds of projects are good for overall quality of life as well. As this recent article states, it's significant for the revitalization of downtown vs sprawl in that many of the upscale 'ferarri owning' residents (as loosely described by one resident) would have otherwise bought homes in the hills.