Mission Bay – SF's contemporary city within a city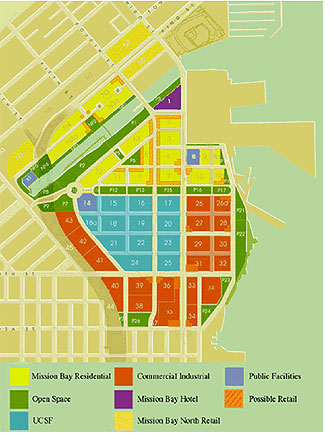 With 303 acres in what is already one of the most desired cities in the country, Mission Bay is one of the most significant urban redevelopment projects ever. Its key features include:
Moderately affordable housing: Of the 6000 housing units, 1700 (28%) will be affordable to moderate, low, and very low-income households
High-tech focus: 6 million sq. ft. of office/life science/technology commercial space
A university: A new UCSF research campus containing 2.65M s.f. of building space on 43 acres
Public space:: 49 acres of it, though so far mostly green rather than hardscape
Retail entertainment: 800,000 s.f. of city and neighborhood-serving retail space
That's looking pretty good on paper. Some other key facts:
– A new 500-student public school
– 31,000 new permanent jobs
– Total development cost to exceed $4 billion over 20 to 30 years
– Status: The university is built, the office is under construction, and most of the housing is yet to come.
Next: How does it look so far?