What makes San Francisco, San Francisco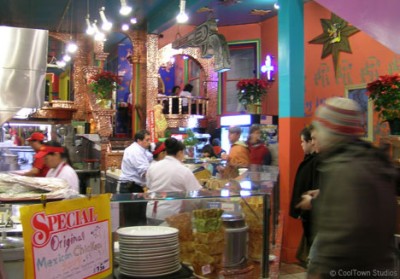 There is no other San Francisco, and that in itself is the secret to its success. No other city has such steep hills, the Golden Gate Bridge, Alcatraz, etc., but to a resident, those icons become invisible after a while – they're not representative of the uniqueness that makes it one of the most desired cities in the world.
A place like El Balazo, in the Upper Haight (my old neighborhood), San Francisco, is. Now it's a crime to single out any one venue in the city, but the thing is, while there's nothing particularly award-winning about this bustling Mexican taqueria, they only exist in San Francisco. That's not nearly the whole story, because there are literally thousands of other entirely unique, ethnic, diverse, independent venues offering experiences you won't find anywhere else… and that's what makes San Francisco, San Francisco.
So, take a typical review of El Barazo, like the following… "We were just walking by and the place was packed, so we figured it was good and we were right!! I love Mexican and this was the best fast food, authentic Mexican resturant. It was a lot of food and the biggest burrito I have seen but they roll it into the tightest burrito. They are not skimpy on their fixings either. The setting in the resturant is very colorful and fun! It is a must stop if you are in the Haight/Ashbury area!" then multiply by a thousand other venues. Now you get the idea.