Chicago developer's lifetime investment in artist community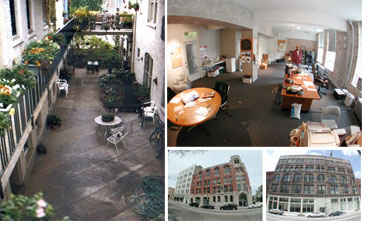 What did it take to revive a neglected neighborhood with historic buildings slated for demolition? The Podmajersky's, three generations of one family that played a primary role since 1914 in establishing what is now known as the Chicago Arts District, 12 square blocks on Chicago's near Southwest side that has been home to over 1500 artists over the last four decades.
Artists, sculptors, ceramicists, photographers, performance artists as well as individuals teaching in the arts live and work in the district in open loft spaces and lots of light. Many of these artist lofts face inward onto tranquil open garden spaces that used to be dismal, highly unsafe alleys. The second generation of the Podmajersky's was inspired by the garden courtyards in Europe while on a honeymoon in 1950, that today are "conducive to building a sense of community, while helping enable the creative process."
The Podmajersky's helped kindle the arts community with an annual artist open house around the late 1960s/early 70s. The tradition continues today with its 2nd Fridays, monthly opening receptions at over a dozen galleries and artist studios.