BusinessWeek recognizes urban movement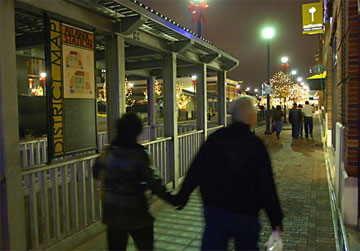 The urban movement is indeed gaining momentum, yet it's still not near where the true urban market wants it to be. BusinessWeek just documented this in its recent article, Bringing Community to the City. Their slide show (image above) of the coming vision is hopeful, yet still uninspiring.
The Good:
"Mixed Developments. Such town centers are truly picking up steam and will soon change the landscape of America. Nowhere is the trend more visible than with mall developers: Out of 147 new retail developments that started construction last year, only two were the big-box, enclosed malls of yesterday. Developers are dramatically shifting gears, making retail centers that include residences, libraries, art centers, boulevards, ice-skating rinks, and other public amenities."
The Bad:
"What's more disconcerting is that these towns give the impression of having less character, with an eerie sense of monotony, as the same pattern of storefronts, townhomes, and condos multiply across America. In a sense, their uniformity mirrors the very suburbs they escape."
That's what differentiates a 'cooltown' – they are truly unique, one-of-a-kind, progressive, stylish and unmistakably local. Why? Because they're planned and designed by the people who will live and work in them.