Workplace for $133/month in Tribeca, NY?!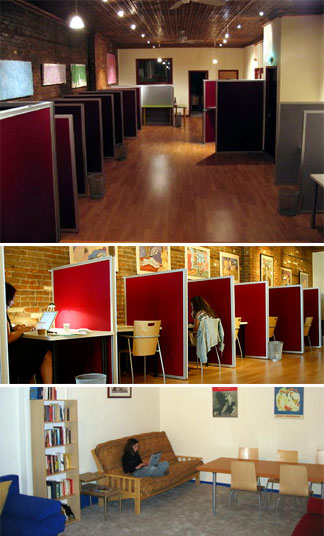 Yep, it's true, but only if you're a writer and you know about the Village Quill. Within the 1700 s.f. loft, you get a workstation with broadband internet and access to a lounge, meeting room and wifi-zone. The Quill helps foster a sense of writers' community with regular art-oriented events, such as writers' workshops, live music performances, author readings, and film screenings. Plus, it's in Tribeca, Manhattan, a creative haven itself.
For a more open-ended example, check out the Affinity Lab, a shared entrepreneurial workplace above a 24-hour diner in Adams Morgan, Washington DC.
The best part of these kinds of workplaces? Village Quill's founder, a writer himself, puts it best "…all the fun of a workplace that is free of office politics, brownnosing, and the dreaded boss."