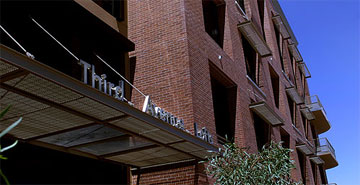 It sure seems like it, based on this Wall Street Journal article.
First of all, for the first time ever people are finding it cooler to live in multi-family homes than single-family homes – the median condo price for the fourth quarter of 2005 was $228,000 compared to single-family homes at $213,000, but if you read this blog regularly, you already knew that.
Developers are finally starting to take advantage of this demand – Urban Lofts Townhomes sold 60% more loft units in 2005 over the previous year, and will build 50% more this year. Conrad Properties is building four times the number they completed five years ago.
Unfortunately, we're still in the honeymoon phase of loft development, so anything new has the word 'luxury' attached. If anyone has word on simple, small lofts that come unfinished without the 'luxury' adjective, please speak your mind below and get some free publicity for that project!