From brownfield to community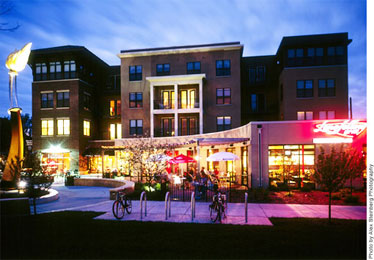 Yesterday's entry profiled how a subdivision was practically transformed into a small city, and while that may have been controversial if the homes had any historical significance (they really didn't), there's no question that replacing a brownfield (polluted site) with attractive housing, retail and a public plaza would have any opposition… right?
Well, perhaps a little, since density is still a dirty word (people still won't forgive the high-rise urban renewal projects a few decades ago), but West River Commons eventually won them over. Developed by the Lander Group and At Home Apartments, with 53 smoke-free rental apartments (20% of which are affordable to those at 50% of the median income), three for-sale townhomes, four indie retail tenants (8000 s.f.) and an elegant public plaza, it was just a matter of time.
However, did they really need 108 parking spaces? Well maybe, since it's not transit-oriented, based on this stat by Reconnecting America: "Households in transit zones nationwide have an average of 0.9 cars, compared to the 1.6 cars per person in the average American metropolitan household."