Looking for a model downtown music festival?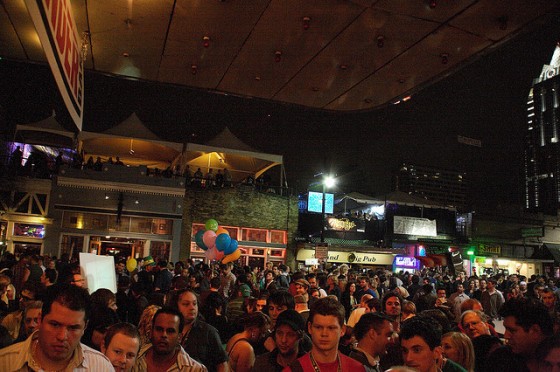 Check out Austin's South by Southwest, better known as SXSW. Is it a music and media conference and festival, an interactive technology festival or a film conference and festival? Yes. The music festival is one of the biggest in the U.S., and possibly the biggest in the heart of a city.
Much of it takes place on Sixth Street, one of Austin's premiere entertainment districts and closed for pedestrians. Ongoing since spring 1987, the event focuses on new and emerging talent. What's the big deal? Check out the statistics – first the 'content', then the economic impact.
Music
– Showcasing Acts: 1331
– Music Venues Participating: 58
– Music Conference Participants: 8,604 (with band registrations 9,692)
– Approximate Number of Music Media in Attendance: 1,866
– Approximate Number of Music Trade Show Attendees: 11,000
Film/Interactive
– Number of Films Screened: 180
– Film Conference Participants: 3,807
– Approximate Number of Film Media in Attendance: 459
– Interactive Conference Participants: 3,343
– Approximate Number of Film/Interactive Trade Show Attendees: 8,000
Economic impact
– Music Conference: $21 million
– Film/Interactive Conference: $9.9 million
– All Three Conferences: $30.9 million
– Music venue revenues increase on the average of 45% over their next highest month, with similar increases at restaurants, bars, etc.