How a 'living room for the creative community' came to be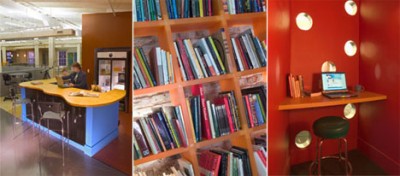 Just as Richard Florida's research shows jobs follow talent, C3 (Creative Change Center), the only workplace/living room for the creative/entrepreneurial community of its kind (profiled yesterday) would not have happened without talent.
The initial talent in C3's case is Bob Mooney, chairman of the Greater Richmond Chamber of Commerce, and Andy Stefanovich, 'In Charge of What's Next' at Play, an award-winning local creative consulting firm and a model of innovation themselves.
Business groups were already committed to investing in Richmond as a creative knowledge base for the Mid-Atlantic to attract jobs, and the right question was, "We need something, but what?" When Mooney and Stefanovich found local business leadership wunderkind, Michele Stuchell to spearhead the vision, that question fostered ideas that became reality. The Greater Richmond Partnership, a public-private economic development group provided the start-up grant, Play donated the 5000 s.f. space above their office, and history was made.