Replacing a shopping mall with a village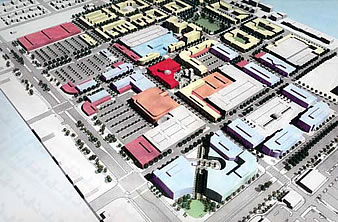 What to do with 104 acres/23 blocks of failed (the trend nowadays) regional shopping mall? Well, after you get over how much land these malls really do eat up, you can find a visionary investment team like Continuum Partners to turn it into an urban village, as the image shows.
Yes, the homes in the new mixed-use development of Belmar in Lakewood, Colorado are priced too high for the average person and the stores are mostly chains – not a primary destination for the creative class – but the entertainment and recreation amenities are plentiful and attainable, and as far as a lesson in improving what used to be there…
Out with the old:
– 1.4 million s.f. of shopping mall
In with the new:
– 1300 residences
– 0.9 million s.f. of office space
– 175 stores
– Supermarket
– 16-screen theater
– 9 acres of parks and plazas
– 90,000 events center
That's a pretty good deal.