Now that's more my style and price range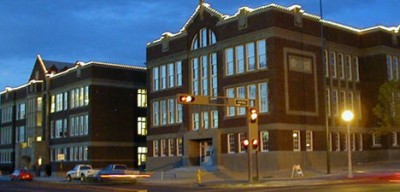 That's a typical creative class response (and an actual one too) comparing something like the Albuquerque High Lofts (pictured) with the nearby luxury Gold Avenue Lofts.
To elaborate, the Gold Avenue Lofts are housed in one massive building, described as 'sterile', 'boring' and 'safe', with prices starting at $300,000 for large 1100 s.f. units. Only 8 of the 41 units were initially sold after completion. Meanwhile, the Albuquerque High Lofts began at just $150,000 for units as not so big as 700 s.f. (up to 2050 s.f.) Only two of the 180 completed lofts are still available, with 54 on the way for February 2007.
Albuquerque High Lofts developer Rob Dickson, interviewed in New Urban News (featuring a larger story on Albuquerque's downtown revitalization), put it this way, "The projects that have been produced have missed the market. The units are too large, and the prices are too high."