Syracuse, NY – one of many downtown success stories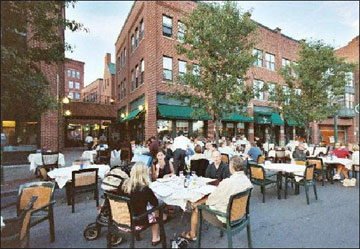 While yesterday's entry presented national evidence of the downtown movement, what about local evidence? Syracuse, New York is one of many small cities investing in downtowns as they transition from a manufacturing economy to an information-based one.
Syracuse's success story simplified:
Step One: Designate a depressed warehouse (ie manufacturing) district, Armory Square as a historic (and very affordable) neighborhood, thus encouraging artists and entrepreneurs to settle there. Sound familiar?
Step Two: Identify key historic buildings for public-private investment, and target them toward the creative class with the help of economists like Richard Florida, who coined the term.
Step Three: Enjoy the results: 2500 residents and counting call downtown Syracuse home. The occupancy rate for downtown apartments is at 99%. Syracuse University moved 600 students to a building in Armory Square. The projected investment in 2006 exceeds $180 million, including 180 market-rate apartments and condos; 550 hotel rooms; 750,000 s.f. of renovated space and 265,000 s.f. of new construction.
More here.