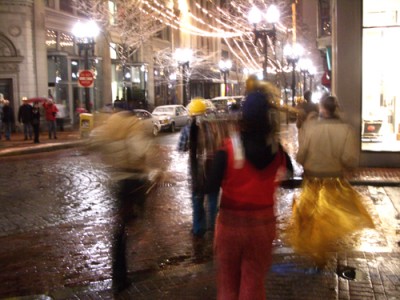 Have you ever wondered in which city downtowns you could actually afford to buy a home in, yet still enjoy some semblance of active urban life and entertainment? Rich Karlgaard, author of 2004's Life 2.0: How People Across America Are Transforming Their Lives by Finding the Where of Their Happiness has done some research for you, "Bohemian Bargains are core cities in the 150,000 to 750,000 population range with lively downtowns and a reasonable cost of living." My brief comments follow each city.
Baltimore, MD (651,000) – Visionary mayor. Great historic building stock.
Buffalo, NY (293,000) – Check out Buffalo Rising.
Cincinnati, OH (292,000) – Lots of young people.
Cleveland, OH (478,000) – Lots of public investment.
Denver, CO (572,000) – Already getting expensive.
Grand Rapids, MI (1.2 million) – Not quite there yet, but will be soon. Invest now.
Hartford, CT (136,000) – It's affordable, that's all I know.
Indianapolis, IN (782,000) – Strong civic leadership.
Kansas City, MO (442,000) – Lots of downtown investment.
Louisville, KY (699,000) – One of my favorites, lots of unique culture.
Memphis, TN (1.1 million) – Check out Beale Street.
Miami, FL (2.2 million) – Check out South Beach.
Milwaukee, WI (597,000) – Former Mayor Norquist now leads the CNU.
Nashville, TN (1.2 million) – Great music scene, people love their city.
New Orleans, LA (469,000) – No place like the French Quarters.
Pittsburgh, PA (335,000) – Getting there.
Portland, OR (529,000) – Model city, but getting pricey.
Providence, RI (176,000 – One of the coolest cities on this list. (pictured)
Raleigh, NC (276,000) – No shortage of jobs, and nearby college towns.
Rochester, NY (1.1 million) – Don't know much about this one.
Sacramento, CA (426,000) – Very hot, but downtown is growing.
St. Louis, MO (2.6 million) – City is investing a lot of $ downtown.
St. Paul, MN (269,000) – One of the most creative cities w/ Minneapolis.
Tampa, FL (318,000) – Check out Ybor City and Oak Park.
Wichita, KS (355,000) – Comments, anyone?