When the American Dream goes from an 1100 s.f. home to 500 s.f…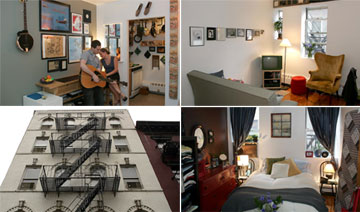 Sound crazy? Not when you're Ms. Birch and Mr. McGrath – in their twenties with good jobs, wanting to live in New York City…
Developers, listen up. If creatives had a choice between living in a conventional 1000 s.f. apartment in suburbia vs a high-style 500 s.f. loft-inspired apartment near the most active, vibrant neighborhoods, you'd better pay close attention to this NY Times interview with Anne Birch and Brendan McGrath, because they represent where the market is headed for at least decades to come. They and the emerging generations of home buyers (e.g. gen y) are redefining the 1939 American Dream vision launched by GM and national home builders that still dominates the current generations' mindsets.
In Birch's words, "Particularly about the East Village, I really loved the feel of the streets, the kinds of people that live in this neighborhood. This apartment feels so cozy… it never feels unbearable compared to what we had."
In fact, they now pay double for their present 500 s.f. residence in NYC's East Village compared to their former 1100 s.f. place in Wicker Park, Chicago.
Learn more about their move their move in the NY Times article, Life Lessons, Welcome or Not.